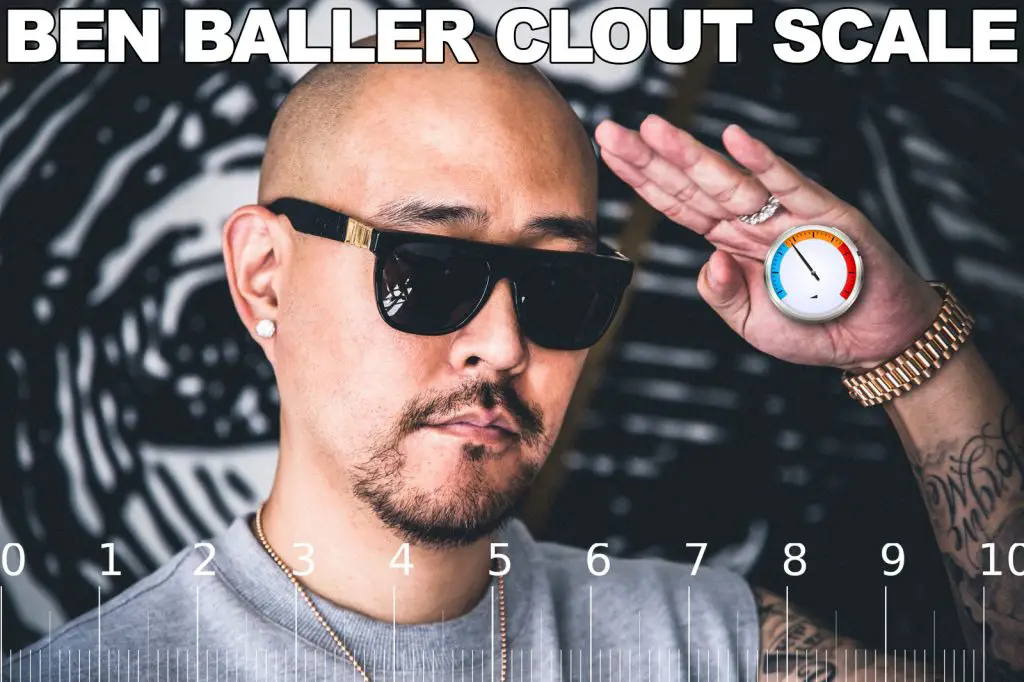 PRESENTED BY: discord.gg/hiphop 
Introducing the Ben Baller Clout Scale. The BBCS.
Ben Baller, if you out there reading this, tweet this if you are not scared.
Any person within hip-hop can be measured in clout by this scale. The scale utilizes Ben Baller's level of clout in relation to automotive vehicles and trends in social media. This is the most accurate clout scale in existence.
Let B be equivalent to Ben Baller.
Let X be the person we are attempting to find the clout level of using the BBCS.
Let Y be their hip-hop rating (more on this later).
Let Z be their automotive plug rating (more on this later).
Let A be their actual level of clout, excluding Y and Z.
Clout in the influence or power one has within the hip-hop scene to change people's opinions, create a following, or incite fellowship/kinship through their creative art form, without necessarily or explicitly trying.
The formula is as follows:
If the sum of (Y+Z) + (A) >= B, X has more clout.
If the sum of (Y+Z) + (A) < B, X has less clout.
We assume there is no human in existence with the exact same level of clout as Ben Baller; B is forever an arbitrary number that is not a constant; it is a fluctuating integer that changes based on Ben Baller's clout in the scene at any given time. This does not mean he has high or low clout, this simply means that no one has the exact same clout level as him.
Let Ben Baller's unique clout amount be denoted by L.
There are two primary factors that make up B. These two factors have been decided upon after extensive testing and discussion. These two factors, as aforementioned, are Y and Z.
Y is their hip-hop rating. This takes into account their integrity within the scene, and their respect within the scene.
Y: Hip-Hop Rating
Ben Yang, AKA Ben Baller, is a Korean-American cringe artist who specializes in creating jewelry. At 43, he continues to flame teenagers on social media while using curse words and getting heated at menial comments, calling him out on his constant lies and pseudo-clout claims, such as making $57,000,000 in 2017 while his website is still hosted on GoDaddy and he continues to plug automotive shops daily.
A stan of all things 20-years-gone, he attempts to be hip by buying expensive clothes from retailers no one wears anymore, along with copping sneakers no one cares about. Claims of making tens of millions of dollars off of vape pens and jewelry, these also are unproven claims which have no foundation but his word, which is not sturdy in and of itself.
All things considered, including parties he attempts to get selfies at for Instagram clout, to commenting on rappers' Instagram posts to abuse the algorithm and appear as top comment when people visit the actual clouty rappers Instagram, we've adjusted Ben Baller's hip-hop rating to a 15/100 on the BBCS. The maximum score is 100/100.
Z: Automotive Plug Rating
This one is a tricky rating, as not all rappers are able to be measured using this metric. If they're clouty enough to be measured, they should have some sort of proof regarding (Z) to be valid. This rating is subtracted.
The Automotive Plug Rating (APR) can be measured by how much clout a rapper has in relation to Ben Baller's constant posts about getting discounts at car mod shops that no one knows about.
As aforementioned, we have declared Ben Baller as the median. Anything lower would be your average citizen on the sidewalk haggling with the fat mechanic at Goodyear for a tire deal. Anything more would be a rapper with actual clout that respects themselves enough not to tag a mod shop in their Instagram posts (or Twitter, but mainly Instagram).
---
Quote
Say hello to the #KTOWNDESTROYER6 my favorite of all my Destroyers. 2018 Mclaren 720s in Saros Elite with the Performance Package. I wanted to post a pic of this during thanksgiving, but the pic about my battle with addiction to lean was more important, then I wanted to post it on Christmas but my family pic was more important. And then for my bday but my bday was already too lit. Here it is. It is the fastest car I've owned or driven. It's perfect. Thank you @mclarenbeverlyhills @ogaracoach for being the best possible luxury/exotic car dealership on earth and this is my 13th purchase from them with car 14 coming soon 😎. Thank you @thegoldenjew22 for being an amazing broker! Best in the game. Stay tuned for upgrades by @platinum_group and I have a full exhaust system coming soon from @fabspeed_motorsport
It's #PML forever.
Quote
My family daily driver got some new feet. I had to take it back to the 3 piece Wheel OG's @forgiato for the most gangster, but classy set up.

21" x 9.5" (255/30/21) front
22" x 13" (335/25/22) rear

Technica Series "Tec 2.4" Matte Gunmetal finish 3-piece forged wheels with polished hardware. Car still drives like stock. Thank you again #Forgiato & @ac_forgiato
• of course all labor/installation and suspension upgrades done by @platinum_group I wouldn't trust anyone else to touch my cars besides #PML or the dealer #FerrariFF #V12 #Ferrari #Pininfarina #ForgedWheels #Forgiatos #Forgis #PlatinumMotorsport 📷: @olegkudvisuals
Quote
Thank you Brian at @Rotiform for the new wheels! Thank You @Boden_Autohaus for the install. My #KTOWNDESTROYER3 is street certified! #PML
Forged 3-pc #Rotiform KPS
20″ x 10″ (265-35-20) FR
21″ x 13″ (325-30-21) RR
Michelin Pilot Sport Cup 2 Tires
---
We can assume from the aforementioned plugging of statistics and automotive salon pages (such as Boden Autohaus and Platinum Group) that Ben Baller leases his cars regularly; he has owned 40 cars in his lifetime, and currently only owns 6, swapping them out in attempts to gain clout in the cloutsphere of hip-hop on a regular basis, all while touting the "KTOWN HUSTLER" name, when in reality, he has never hustled in his life.
These plugs range on a rating from 0-100, with each time he plugs something being equal to 5 points, with a cap of 15 plugs per post. This means the maximum amount of points any individual can gain from a single post through tagging or plugging is 75. The remaining 24 points are determined by the amount of flexing done in the post to show off, due to inability to attain a sustainable amount of clout.
Note that a lower score means higher clout, while a higher score means lower clout (think: golf).
For instance, on the best day, Ben Baller would receive discount carbon fiber car mods; in no capacity is he ever able to obtain a free car, even a low-tier car, from a car dealership as a part of a promotion.
In comparison, a tech behemoth like Mark Zuckerberg may be able to get any free car he wants, but would not abuse his clout and possibly insist on paying for an energy-efficient car (this is called Mobius Strip Clout or MSC, where you have so much clout it folds in on itself and goes down, when it's actually just overlapping on itself).
Another example would be Drake, where he could most probably get a high-end luxury car for free from a large brand, but would choose not to due to hurting his nearly-maxed-out level of clout within hip-hop. Kanye would also be someone that would elect not to due something like this due to clout level.
A rapper on the same clout level as Ben Baller would be someone like Dumbfoundead or Spose; a car mod package or discount on luxury car accessories may appeal to them due to their level of clout.
We've adjusted Ben Baller's Automotive Plug Rating to be a 95/100. Near-perfect, basically a virtual billboard for unknown car tuning shops around K-Town and the greater Los Angeles area.
If we take into account Ben Baller's actual clout, which has been adjusted to an extremely generous 30/100, we can calculate Ben Baller's BBCS score (this is the global median). Note that Ben Baller's BBCS score is non-inclusive of the outstanding (+B) and (+L) outliers which we must factor in. These two are the unique keys, which make Ben Baller's clout level unique and unlike anyone else's, even if someone else is also 140/300.
+95 (Outliers, B/L balance)
-95 Automative Rating
+15 Hip-Hop Rating
+30 (A; Actual Clout)
+B
+L
Ben Baller's adjusted BBCS score: 140/300 (+B) (+L)
---
Outliers
-Having a classic album is +15 points
-Having a classic song is +5 points
-Being tight with the Kardashians is +3 points
-Lies are -5 points
-Claims with no base, foundation, or proof is -10 points
-Flexing the same thing more than 3 times within a 365-day span is -25 points (cars and family are an exception to this)
-Tattoos which are "cringe" in nature (i.e. conspiracy theory, Illuminati-related, full back pieces that are text-based)
-Attempts to act "hip-hop" by using anything related to black or African-American culture exclusively (namely ebonics, hip-hop steez, or usage of "nigga" as a non-black)
-Other notwithstanding circumstances that may remove substantial amount of clout are determined by the user measuring clout, and can fluctuate in amount or number/quantity of points (a catch-all for any other circumstances not listed)
PRESENTED BY: discord.gg/hiphop