Lighting can make or break the decor of a space, whether it is a regular room or some party decoration. But you can't really go wrong with fairy lights (unless it's a study room)! A string of lights is just perfect to illuminate a room brightly without hurting the eyes and covering large areas. Curtain lights are many strings hanging from a single strand giving a curtain or waterfall effects. The LED lights are soothing and power-efficient. Whether you want to decorate your plants, the garden, a christmas tree or string the lights around the patio or on the bedroom window, or spruce up the wedding or party decor, these waterproof lights can be used outdoors or indoors, through any season, all throughout the year. 
So read on and find yourself the best LED curtain string lights to make your home look bright and alive!
5 Best LED Curtain String Lights
LE 594 LED Curtain Lights
These LED curtain fairy lights form excellent backdrops for weddings and ceremonies, at garden parties or on the bedroom walls. These twinkling warm 3000K white lights feature 8 lighting modes and measure 19.7×9.8 feet. The strings include 594 LED bulbs with 30V low voltage working.It does not overheat and is safe to put around kids and pets.The installation requires no hard wiring and the power adapter is ETL listed for safety. These lights offer a soft glow in a waterfall pattern and can serve as mood lighting or night lighting. The clear wire remains hidden even during the day and can be used for all year lighting.
Pros
Waterproof

Clear wire

Year-round lighting

Eight lighting sequences

Easy to use
Cons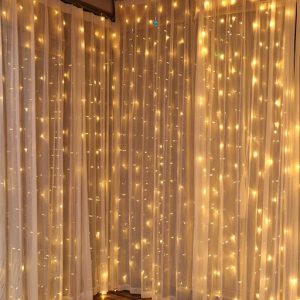 https://www.lepro.ca/19-7×9-8ft-led-curtain-lights-594-led-8-modes-warm-white.html
LE Fairy Curtain Decorative Christmas Lights
LE Fairy Curtain Lights
Spruce up your party backdrop with the LE decorative curtain lights. These fairy lights measure 9.8×9.8 feet and the total cord measures 10 feet, with a variety of charging and usage features. The string of lights can be battery operated, USB-charged or simply plugged in which allows you to use them under any circumstances for short or long durations. It includes 300 LED bulbs giving out 3000K warm white light. This string is waterproof and can be operated through a remote control. It features 8 lighting effects including 7 blinking and 1 constant setting and also a timer option. 
Pros
300 warm white LED lights

Creates a soothing atmosphere

Waterproof

Provides powerful lights

Battery powered

Remote controlled
Cons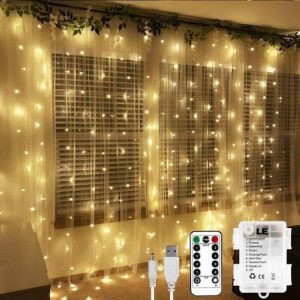 https://www.lepro.ca/9-8×9-8ft-led-curtain-light-usb-or-battery-operated-8-mode-warm-white-300-led.html
LE Dimmable Fairy Light Strings
LE Curtain Lights, 300 LEDs
The dimmable LE fairy lights include 300 LED bulbs with color temperatures ranging between 2700 to 3000K. It is designed with two controlling options, namely a remote control or box control. The box includes ten hooks for easy installation. The string also features 8 lighting patterns like combination, in waves, sequential, slo-glo, chasing/flash, slow fade, twinkle/flash, and steady on. It also facilitates a timer, memory function, window icicle lights and more to decorate every christmas party, wedding, patio or any indoor and outdoor area.
Pros
Available with ten hanging hooks

Memory function

Remote controlled

Water-resistant

Easy installation

Timer function
Cons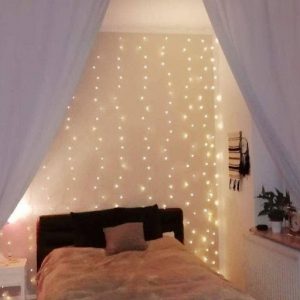 https://www.lepro.ca/led-curtain-light-copper-wire-remote-8modes.html
LE LED String Lights Copper Wire Fairy String Lights
LE LED String Lights
Decorate your plants, windows, patios or any indoor or outdoor area with the LE fairy light. The twinkling lights can be used as wedding or Christmas decorations as well. This 66 feet copper wire is coated with enamel, water-resistant and strings 200 LED bulbs. The bulbs give out 2700K-3000K warm white light and the bendable wire is durable and soft. It can be bent into any shape to form creative decorations. It is designed with a physical on/off button for easy use with a 6.6feet leading wire. The power adapter is UL listed for safety and a low voltage of 4.5V ensures no overheating. The well-insulated string lights are safe to use around children and kids. 
Pros
Versatile

Waterproof

Sturdy

Flexible wire

Bendable
Cons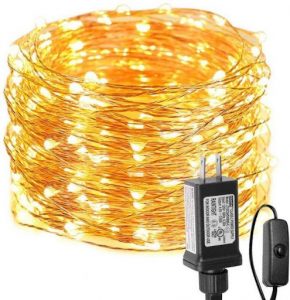 LE Solar Outdoor String Lights
These garden lights from LE are solar lights with a 25 feet string and 26 Solar Edison bulbs. The warm white lights can be used indoors and outdoors due to the IP44 material. Once fully charged for eight hours, the lights work undischarged for 6 to 8 hours on continuous mode and 10 to 12 hours on flash mode. It requires no electricity and can be charged with a USB port or through the solar panel. The photoelectric conversion efficiency of these lights is about 18%. The string is waterproof and features three lighting modes which are quick/slow flash, steady on, and intermittently flash. It also comes with one spare bulb.
Pros
Durable

Waterproof

Auto on/off

Ideal for indoor and outdoor use

USB or solar charged

No electric cost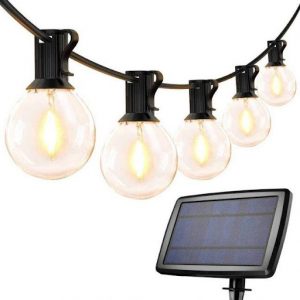 Cons
The lights only work when the environment is dark
What Are Window Curtain Lights?
Window curtain lights are lights that fall like a curtain. Many vertical strings attached with small bulbs are attached to a main horizontal string which is of long length. This main wire can be strung over a distance and the vertical strings fall along like a curtain forming a waterfall of lights. These can be electrical, battery-powered, USB charged or solar powered. They feature various lighting modes and the light emitting diodes come in a variety of shapes.
How To Choose The Best Window Curtain Lights?
There are a plethora of window curtain lights available in the market so choosing one may not be an easy task. Here are some points to keep in mind while buying one. 
Plug access: The length of the power cord will vary with different lights and depending on where you want to put up the lights, you need to check your access point. Make sure the power cord is not too stretched or else you may need to use an extension board to avoid snapping the wire or a loose connection. 
Chargeable power source: Curtain lights can be USB charged, battery-operated or solar powered. Depending on how long you want to use it and the weather conditions of the place, pick a power source that will provide power to the lights for at least 6 to 8 hours continuously. 
Remote control: Many curtain lights can be operated by a provided remote control. This makes it easy to switch between a variety of modes including switching it on and off. Check the distance covered by the remote. 
Modes: These lights come with a variety of modes and features like multi-colors, continuous light, flashing lights, dimmable, color temperature and many more. Pick and choose according to the features you like most and that will suit your occasion and usage. 
Installation: Curtain lights usually come as separate strands to avoid a tangled mess. The main strand may come with hooks for easy installation or you may use zip ties to hang the individual strings to the main string. Make sure the installation is not very completed.
Waterproof: These lights are versatile and can be used outdoors or indoors. However it is necessary to check if the strands are waterproof and weather-proof so as to increase longevity when used outdoors. 
Other Things to Think of
There are some bonus features you may get in some curtain lights. These are as follows:-
Dimmable lights: To create a warm and soft atmosphere, dimmable lights are a great boon. A remote feature or a physical dial or button on the transmitter may allow you to dim the lights as you please. 
Dual color temperature: Another bonus feature is one light with two hues. This makes it possible to switch from a bright white light to a warm yellow glow according to the environment. There could be other color options available in double hues. 
Timer and memory feature: A timer feature allows you to time your lights to stay on for a certain number of hours or turn off automatically after the set time. The memory function remembers your preferred settings and saves you the hassle of manually fixing the setting everytime you turn on the lights. 
Conclusion
If you are looking to beautify a space beyond the regular bulbs and tube-lights, the curtain fairy lights are just what you need. A waterfall of warm twinkling lights that span a wide distance, forming a well-lit yet soothing backdrop to any decor. Our list of recommended curtain string lights above is from products brought to you by www.Lepro.ca. Lepro is a trusted brand with DLC listing for Energy Star products that ensure power and energy saving. The reliable company offers guarantees and warranties on their products, winning accolades of over 100,000 online reviews.