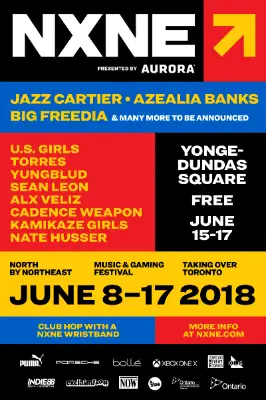 NXNE ANNOUNCES FESTIVAL VILLAGE AND CLUB LAND PROGRAMMING FEATURING JAZZ CARTIER, AZEALIA BANKS, BIG FREEDIA AND MORE
NXNE is pleased to announce the first round of programming for the Yonge-Dundas Square 'Festival Village' along with the Club Land Curator series line-up. Yonge Street will be open to pedestrians between Dundas and Queen Streets to host this year's free programming component of the festival, which includes music, comedy and more in the heart of downtown Toronto.
NXNE's 2018 Festival Village headliners include Toronto's most energetic and enigmatic MC Jazz Cartier, rapper / singer of '212' and 'Anna Wintour' fame Azealia Banks, and Queen of Bounce Big Freedia. For full line up, see below and stay tuned for our next programming announcement on May 22nd.
Festival Village
Jazz Cartier
Azealia Banks
Big Freedia
U.S. Girls
TORRES
Sean Leon
Alx Veliz
Yungblud
Cadence Weapon
Kamikaze Girls
Nate Husser
and many more!   
Club Land
The Club Land Curators Series, programmed by leading Canadian musicians, has expanded with over 30 shows throughout the festival week. Club crawlers can look forward to a diverse range of programming including art installations, emerging artist showcases, late night DJ sets and after parties, all in Toronto's most cherished venues. This year's Club Land acts include Phedre, Ice Cream, Die Mannequin, Saya, Charlotte Cornfield, Sun K, Myst Milano, The Pick Brothers, La Timpa (DJ Set) Goodbye Honolulu and more. See full lineup below. 
The Curator series aims to encourage music fans of all genres to club hop across the city and witness their favourite artists transform the showcase experience. Get priority access to all shows with an affordable NXNE wristband. For tickets visit here.
Club Land Lineup (alphabetical) 
Ace Dillinger
APHROSE
BABY BLUE (YOUNG TEESH & PRINCE JOSH)
Bookchop
Carolina East
Charlotte Cornfield
CJ Flemings
Coco Supreme
Craig Currie
Dani Nash
Dave Monks (Solo)
Die Mannequin
Dom Dias x Just John
Evan Redsky
EverythingOShauN
Eyeda
FAIZA
Ferraro
Freeza Chin
Garcons
GHOST CARAVAN
Goodbye Honolulu
Hex
Hua Li
Ice Cream
Just John
KHADIJAH LOPEZ
Kimmortal
Kyvita
LA TIMPA
Lemin
LEN BOWEN
Like A Motorcycle
LIZA
Mark Bragg
MARK U
Merival
Mimico
MYST MILANO
Myst Milano
New Chance
NOBRO
Phab
Phedre
Property
Rum Ragged
Saya
Selena Dhillon
Stones
Streel
Sun K
Sydanie Moon
TALVI FAUSTMANN
Tange
TANISHA
Teddy Fantum (Hard to Kill)
The High Divers
The O'Pears
THE PICK BROTHERS BAND
TOBi
Tylor Jay Santos & Jonah Yano
VANESS
VAZ
WILL
ABOUT NXNE
Founded in 1995 with our partner SXSW, NXNE kicks off festival season by taking over the city of Toronto every June for 10 days, bringing incredible talent and emerging live music to the city's best concert venues.  NXNE includes a free, three-day music festival in the centre of the city at Canada's biggest street corner, Yonge and Dundas.
LINKS
http://nxne.com/
https://twitter.com/nxne
https://www.facebook.com/nxnefestival
https://instagram.com/nxne/