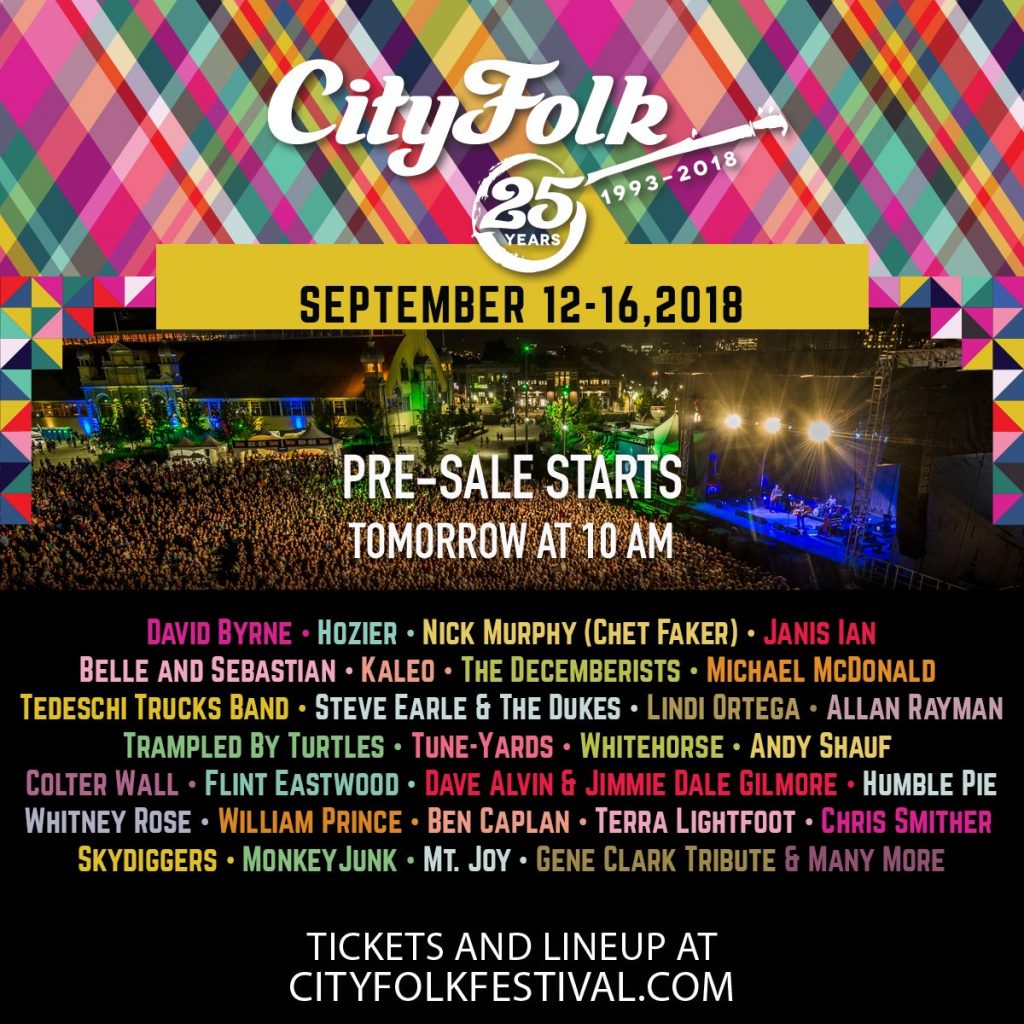 IT'S HERE! The 25th Anniversary Edition of the City FolkFestival Lineup! The 2018 edition of CityFolk returns to Lansdowne Park Sept. 12-16 for the fourth year in the Glebe.
1-Day Pre-Sale starts THURSDAY at 10AM. Tickets & Lineup Info at: http://www.cityfolkfestival.com 
History
The festival was established 15 years after the demise of the Festival for the Folks (1976–1979), a previous folk festival in Ottawa. The first Festival of the Folks (1976) was held in Brewer Park and organized by Sheldon Wilner (CUSA programmer) and Jim Wright (CUSA Finance Commissioner).
The first Ottawa Folk Festival was held on Victoria Island, a small island between Ottawa and Gatineau in the Ottawa River. It ran only a single day, on August 28, 1994. Headliners on the inaugural festival included Valdy and David Wiffen. From this initial festival until 2006, the folk festival was formally known as the CKCU Ottawa Folk Festival acknowledging the support of the CKCU-FM radio station at Carleton University.
In its second year, the festival moved to Britannia Park, a large park near historic Britannia village in the west end of Ottawa. Britannia Park was also home for the Festival of the Folks for its final three years, and would remain the folkfest's home until 2010. The festival was also extended to run for two days (Saturday and Sunday) that year; in 1996, it was extended to run three days beginning with Friday evening concerts.
In 1996, the festival had cash flow problems that almost broke the organization. The festival retains close ties with Arlo Guthrie who performed at the two sold-out benefit concerts in that year that enabled the festival to continue. In more recent times the festival has turned toward the inclusion of non-folk and mainstream artists (such as a 2010 performance by Arrested Development and 2005 performance by Canadian Idol Kalan Porter) in an effort to boost attendance.
The festival underwent major changes in 2011. Facing a heavy debt-load which was exacerbated by heavy rain and high winds on the final day of the festival in 2010, the festival board accepted an offer from Ottawa Bluesfest organizers to take over the running of the festival. The new management moved the festival to Hog's Back Park near Mooney's Bay along the Rideau River.
In 2014 the festival was rebranded as CityFolk and relocated to Lansdowne Park.