Bingo is one of the most beloved forms of entertainment in the UK. This is something that is true of both the online and offline forms of the game.
It also has plenty of fans in other parts of the world, including Canada, but there is no question that people in Britain have taken the game to their hearts. It is easy to see why – bingo is a fast and fun game to play.
Plus it can produce truly monumental wins at times.
Online Bingo Popularity
There was a spell during the 1980s and 1990s when the enthusiasm for bingo slumped. What changed this was online operators like winkbingo, with their colourful websites and exciting new twists on the classic bingo game.
They managed to transform the image of the game into something youthful and hip; making it appeal to young people for the first time. The revival of bingo was also helped along by the publicity generated by some spectacular plays and wins in recent years.
These are some of the moments that will make you want to take up online bingo.
John Orchard – £5.9 Million
If you have ever doubted that playing bingo can win you the kind of money that will change your life, this story should wipe those doubts away. A decade ago, John Orchard, an ex-factory worker from Lincolnshire in the UK, opted to play an online bingo game for the sum of 30p.
The result: he won the jackpot of £5.9 million, which is the highest amount anyone has ever won playing bingo online. The 60-year-old grandfather immediately retired from his job and took his whole family on holiday.
Georgios M – £5.1 Million
Lest you imagine that monumental win was a one-off, there is also the story of Georgios M. This businessman was born in Greece and his mysterious moniker is down to the fact that he did not want his full identity revealed to the public.
Given that he won a massive £5.1 million from an online bingo game, perhaps his reticence is understandable. His 2009 triumph is the game's second largest windfall and further proves that bingo can bring big money.
Lisa Potter – £1.3 million
Online bingo has more female players than male ones overall, so it might seem odd that the two biggest winners were male. The ladies have muscled in on the action though, with Lisa Potter being one example.
She won the third largest sum during 2015, claiming £1.3 million from a £5 bet at Ladbrokes online bingo. We know that she was married with three children, as she immediately booked a holiday for the family after finding out about her success.
Potter also told the press that she would invest in a new car and home but that the rest of the cash would be saved. Not everyone goes mad when they bring home the bingo bacon.
Soraya Lowell – £1.2 Million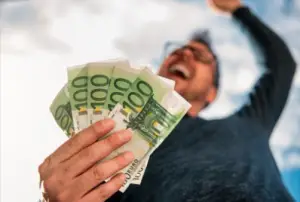 Large amounts of money have been won in bingo before. 
Scottish Soraya Lowell was playing the UK National Bingo Game when she experienced her life-changing moment. It is proof that the land-based game can produce big wins too, as she was playing at her bingo hall in Lanarkshire when she landed the Platinum Jackpot of £1.2 million.
In an act of real generosity, Lowell chose to honour an agreement to split any winnings with Agnes O'Neill, her neighbour. Sadly, media rumours suggest that she later went bankrupt due to unpaid debts.
This is proof that some cannot cope with becoming rich.
Anita Campbell – £1 Million
What makes this story even more remarkable is that it is actually that of two big wins in rapid succession. Anita Campbell was going through a bad financial patch when she decided to create an account at the Mecca Bingo website.
On her first day of playing the game, she won a jackpot worth £597,000. As if that was not enough, she subsequently won a second online bingo jackpot, this one totalling £552,000.
Thus in less than two weeks, the struggling mum became a millionaire. She was able to buy homes for herself and her father and also pay for precious IVF treatment for her daughter.
The Future of Bingo
The future of this game seems to be very secure. Magic moments like these generate invaluable publicity and make the game attractive to people who have never played before.
They even reach the eyes and ears of gamers in different countries. That could see bingo start to rival other types of gaming among Canadians in years to come.
A question remains over whether it will be online or land-based bingo that people are playing though. The majority of the really huge wins have come through the online version of the game and it also has convenience on its side.
Online bingo offers more choice of games than bingo halls too, helping it connect with a young consumer base. Many of those youthful players see a trip to a bingo hall as a fun idea for a night out though.
The probable outcome is that online bingo will become the main form of the game, but that the land-based version will remain popular as something young people do at the weekends.
Whether you choose to play bingo on the internet or at a bingo hall, you will have fun. You may also find yourself on a list of big bingo winners one day.