When a good TV show hits, it really hits. Even before the internet, a popular show could attract millions of viewers. For example, when the final episode of M*A*S*H aired on February 28th, 1983, over 105 million people tuned in, establishing itself as one of the most-watched TV finales in history, a record that still stands today.
Bring things into the modern era and it's the same story. You can go from the Sopranos to Stranger Things and there will be millions of dedicated fans around the world. These dedicated fans are happy to rewatch the classics time and time again, as well as invest time and money in subsequent spinoffs.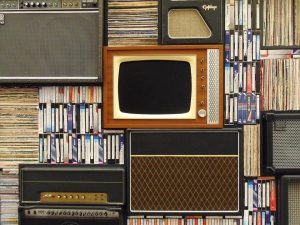 Source: Pixabay
Given that people are so willing to invest their time and energy into a show, it's little wonder that spinoffs have become big business over the years. Alongside spinoff shows, there are a number of other products that have been inspired by TV shows and wear the franchise's brand with pride and to great success.
Globally, fans are avid collectors of these prized possessions and pledge their allegiance to their favourite shows by investing time and money into such merchandise. The following article shines a light on some of the weird and wonderful TV-inspired merchandise and spinoffs currently in circulation.
The Sopranos Video Game
We all know how much of a hit the Sopranos was. Unsurprisingly, based on the success of the Emmy-nominated show, in 2006, 7 Studios created a video game based on the loveable characters with which American audiences, in particular, had grown so familiar.
The principle of the game is that players assume the role of Salvatore Bonpensiero's son, Joey LaRocca. The aim of the game is to rise up through the Mafia family's ranks. How do you become a made man? Simple: you visit the boss and complete every task he sets.
Holmes and the Stolen Stones Slot Game
Sticking with the gaming vibe, another interesting TV spinoff is Holmes and the Stolen Stones. This game is one of 300+ slots available at Mr Green's online casino. Playing via any desktop or mobile device, you'll see all manner of familiar faces as you spin the reels. Indeed, if you can uncover the right clues (for example, symbols), this slot pays out real cash prizes. But, more than that, players can step into Holmes' shoes and enjoy a level of immersion into their favourite characters' world. 
Sit on the Iron Throne
GOT fans can buy their very own themed seats. From miniature Iron Thrones to covers you can put over the top of an office chair, you can feel just like Joffrey Baratheon or Tommen Baratheon. If you really want to embrace the Game of Thrones vibe, how about turning your toilet into the Iron Throne? You might not be able to buy it, but you could make your own like one creative fan did (see video above).
Clue: Big Bang Theory
Think you've got a brain as brilliant as Sheldon from the Big Bang Theory? If so, don't just sit at home reciting his best lines. Successful with Big Bang fans who have already tried this board game from Winning Moves Germany, it's basically a classic game of Cluedo but with the Big Bang Theory characters and questions. There isn't a murder, but you do have to figure out who betrayed Sheldon. Can you work out who the lowdown brainbox is? Any real fan of the Big Bang Theory should be able to.