Over the past few years, the way we watch movies and TV shows have changed. Now we have streaming services, and we get to decide what we want to see, not what a TV station decides to air. Without censorship and program policies we have all started to stumble upon shows that one way or another have something to do with gambling. Of course, casinos and gamblers have always been featured in entertainment, but I guess now we get to see just how often that happens.
Take for example Squid Game, a new Netflix show that everyone is talking about. It's really the gambling habits of the main character that propel the story forward. So, let's see why gambling is so heavily used in movies and TV series. 
Owning Mahowny
One of the more liberal countries in terms of gambling laws is definitely Canada. Although they do have a lot of restrictions when it comes to domestic operators, their laws don't prohibit these activities. There are lots of Canadian online casinos that are owned by foreigners and that offer amazing content, like slots, poker, and blackjack to Canadian citizens. Coincidentally one of the best movies ever made in Canada is about gambling and casinos and it's called Owning Mahowny. This movie is also based on a true story.
This movie really does gambling addiction justice. It shows just how dangerous it can be and why it's so seductive. However, it also does not reduce the protagonist to a mere addict, in fact, it's the exact opposite. He is someone who is incredibly skilled and can be extremely calculated, someone who knows how to navigate that system. Meaning, he is an incredibly layered person, and that's what the audience likes. 
Gambling as Tool for Character Development
It's not too uncommon for gambling to be integral to the plot of the movie or a show. However, these gambling movies tend to look cliche, or as some would say, you always know how a gambling movie will end or develop. Due to this predictability, producers tend to choose a different direction and just make characters gamblers. This can be a great detail that still provides some sort of mystery.
A character who loves to gamble can be a few things. He or she can be an addict, someone who is reckless, greedy, someone who thrives under pressure, incredibly intelligent, or someone who struggles financially. They can also be an incredibly lucky person, a con artist, or someone with a rebellious streak. This really saves up a lot of time for the producers to tell you more about this character as it builds upon common knowledge of that psychological profile. 
In other words, it can be a relevant detail that makes the story more engaging, and that can make that character more relatable. After all, gambling is a pretty popular hobby, and people play casino games for all sorts of reasons. It also can create some incredibly tense and enticing situations in the movie, which is always a good thing if you are making a thriller, action, or drama. 
We should also remember that art is there to mimic life or nature. So, it's not that shows are there to promote gambling, it's the popularity of the hobby that makes it relevant. Meaning, because there are a lot of casino goers out there, this type of character is often used in a story.
Lots of Today's Role Models are Gamblers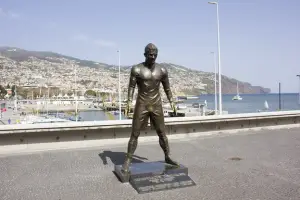 Celebrities and athletes are another reason why gambling is so prevalent in the mainstream media. These people are role models and paparazzi tend to follow them around. So, it's not uncommon for these journalists or photographers to catch the celebrity they are tailing in a casino. Additionally, lots of celebrities or athletes are quite open about this hobby.  
Aaron Paul from Breaking Bad and Christiano Ronaldo appeared and played poker together on a show. Conor McGregor, the world's highest-paying athlete also loves to gamble and even bought an extremely expensive watch that looks like a roulette. Michael Jordan loves to place massive bets on golf. Charles Barkley frequently visits casinos. The examples go on and on. Additionally, these celebrities often have a side-gig as brand ambassadors for sports betting operators so they are frequently featured on gambling sites. 
Conclusion
As you can see there are multiple reasons why gambling is more frequently featured in pop culture. It's an effective and interesting element for storytelling. It's there because the hobby itself is really popular, and because a lot of people who are famous in pop culture love to gamble. Although it's fun and entertaining it's important to remember that you need to be responsible when engaging in this hobby. It does have the potential to cause problems, but if we all behave like grown-ups there is no reason for concern.