Last April, I got the opportunity to interview Louis Vuitton's newest menswear designer, Virgil Abloh, in Toronto. At the time, his rumoured collaboration with Nike was just around the corner. However, not much was known about what would become the hottest sneaker collection of 2017, "The Ten." Kanye West's fashion advisor and creative director for 14 years was on the verge of breaking through as one of the hottest fashion designers in the world, and you could tell he knew it.
After a Eli Manning/David Tyree Hail Mary pass email to his publicist, I got a surprise invitation to Abloh's private opening of his OFF-WHITE store "LAND."
As any modern day journalist would, I attempted to crowdsource my questions by using KanyeToThe (KTT), which boasts one of the most active and fascinating communities of rap fans anywhere.
"No questions about Kanye."
Those were the publicist's instructions when I got to the store.
"Oh, and you can only ask three questions."
While scrambling to figure out what I was going to ask and scrolling through my crowdsourced KTT thread, I was handed a glass of rosé from one of the store's models. Now this is high fashion—and all part of Abloh's experiential OFF-WHITE store branding.
~ MOST ASKED QUESTION IN THE THREAD ~

Yeah, this crowdsourcing questions thing wasn't going to work, especially on a message board filled with Supreme HYPEBEASTS.
After speaking with Abloh and soaking in how enthusiastic he was to share his artistic passion, it was clear to me that his OFF-WHITE vision was about to go mainstream. And it did, in a big way.
In hindsight, I wish I had a pair of sneakers on me at the time to get "QUOTED" before the fad went viral.
A couple of months later…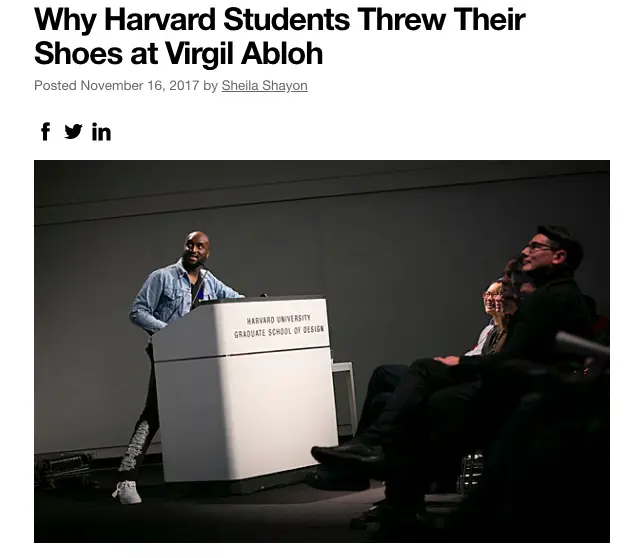 NEW GRAILED LISTING: **VERY RARE**
1/1 "AIR" NILSEN SNEAKERS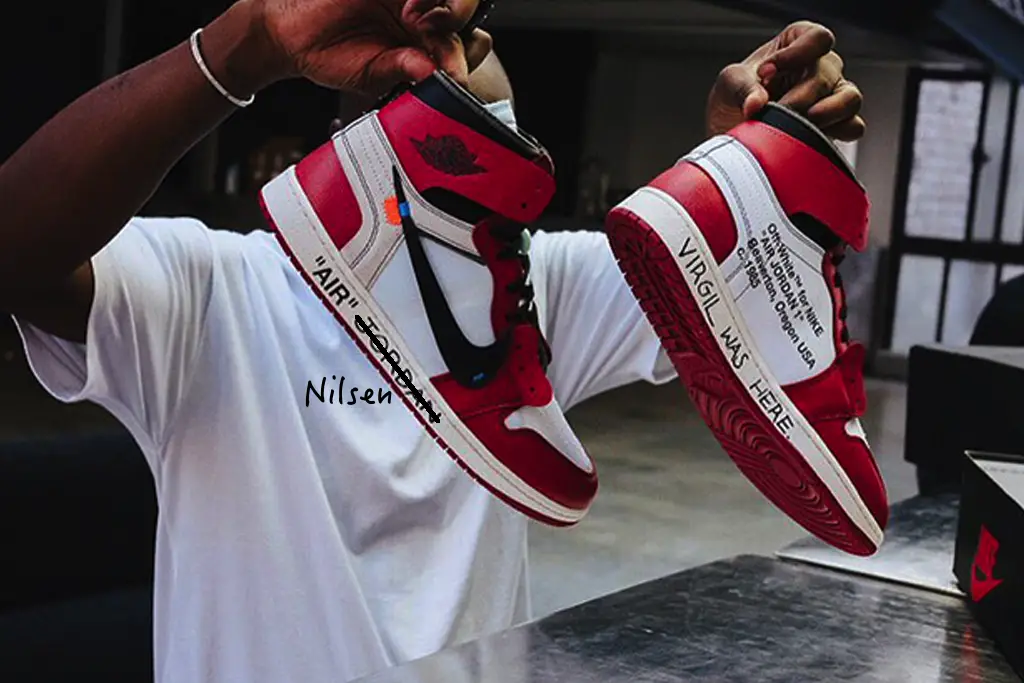 ---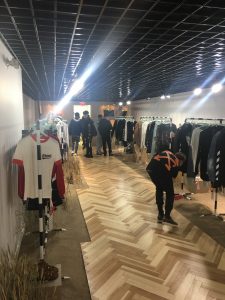 Aaron: How did you visualize this Toronto store and what were your first few ideas to get it to this point?
Virgil: The idea was to not just have a store be a store, like how to make some other vibe to give a different impression of the clothing. You know that's what a store is supposed to do. So if it was, just you know, racks and some lighting, it doesn't do enough for me. The idea was to have a overgrown nature aspect encroaching on the clothes so you can't really tell like what was here, what came first. It definitely feels like having that juxtaposition makes it interesting to me.
A: There's a mix that you did and it was a Back to Back and Blood on the Leaves. It looked like it was in a boiler room in London. Are you ever going to post that? I was checking online and people are going crazy to find this 10 second clip of you doing this little mix. Thoughts?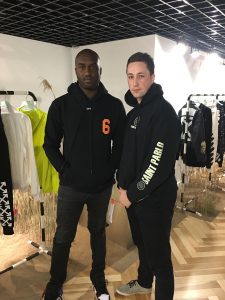 V: I'm not sure. Maybe, maybe not. I haven't thought about it. That sort of stuff is all spur of the moment. I'm sure it will come up again eventually. Somewhere.
A: You were just at Coachella recently do you have any standout stories from that?
V: Nah, it was a blast with Skepta, Trav. It was all one good experience.
A: Will you be spinning any of their stuff tonight at the opening party for the store?
V: You'll have to come through. There will be an open bar, but keep that on the down-low.
Show up early.
---
Later That Night…
Abloh took to the DJ booth with CYBER 69 & BADBADNOTGOOD's drummer Alex Sowinski (who mentioned to me that he only just learned how to DJ on a Pioneer 4-ch controller only earlier that week). Also only days prior, Sowinksi had found out that Kendrick Lamar was going to use BADBADNOTGOOD's instrumentals on one of his new DAMN records, which had just come out.
"You literally find out at the last second if an artist is going to use your stuff. We sent Kendrick a lot of stuff back in 2016, and never heard from him or his management until a few days ago. It's a crazy process, but we are truly blessed." – Alex
The night ended with Abloh, Sowinski & CYBER 69 talking shop and waiting outside the venue for Uber's to take them on their next journey across world.
Virgil: I'll be heading to Japan tomorrow. This is just a quick pitstop for me.

And now?
He's "GLOBAL."