Fans of comics and cinema have been truly spoilt over the past ten years. As improvements in visual effects have pushed the boundaries of possibility, it has become more enjoyable to see superheroes on screen. Gone are the corny sixties versions of Spider-Man and Batman. Instead, realistic, engaging movies filled with larger-than-life characters have taken their place.
While both Marvel and DC have their figurehead characters, there have been times when names have crossed over. Below, we give the franchise characters that share well-known superhero and villain names.
Scarecrow
The Scarecrow is an enemy of both Batman and Iron Man. Admittedly, though, he's more established and popular within the DC universe, being a major villain who has appeared in comics, video games, animation and movies. There are numerous rumours about his origins: according to ExpressVPN's villain infographic, however, the Scarecrow character was inspired by Ichabod Crane from The Legend of Sleepy Hollow. Using fear as a weapon, he fits perfectly with the backstory and character development of Batman. 
Marvel's Scarecrow is not that different. First appearing in Tales of Suspense #51 in March '64, he was an adversary of Tony Stark. While he does not use fear gas like his DC counterpart, he does emit pheromones that cause terror. He also has a range of odd skills that include contortionism and the ability to train birds. Since his first appearance, he has clashed with numerous heroes as a low-tier villain, ranging from Spider-Man to Ghost Rider. 
Captain Marvel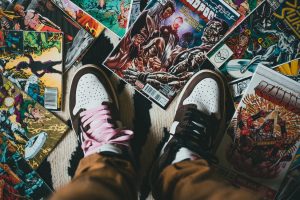 The history of Captain Marvel is long and convoluted, starting with neither Marvel nor DC. Back before either existed, Fawcett Comics invented the Captain Marvel character as their superhero ambassador. When the company went bust, DC comics bought them out and acquired the rights to the character.
However, they did not have the copyright to the name. Spotting a gap in the market and a chance to get one over on the competitors, Marvel comics invented a new Captain Marvel character.
This version would be most well known for being the focus of one of the greatest and most heartwarming runs in history "The Death of Captain Marvel." This took a cosmic character and followed his demise through the very human illness of cancer.
Meanwhile, DC would rename their character Shazam. A popular character who has even had his movie, he has never quite got the recognition he deserves. This may be due to his extreme similarities to the flagship character Superman. Marvel would use the name on several characters, most notably with Carol Danvers who recently made her debut in the cinematic universe.
Doctor Strange
Doctor Strange is the name given to both Marvel's sorcerer supreme and one of Batman's oldest villains, Dr. Hugo Strange. Most well-known is the Marvel character, who plays a pivotal role in their cinematic universe.
Hugo Strange first appeared in Detective Comics #36 of February 1940. This means that he predates many of Batman's current galleries of villains. Yet unlike his Marvel counterpart, he is a learned man of science. Of genius-level intellect, Strange is trained in psychology, chemistry, and biology and is an excellent hand-to-hand combatant. This positions him as an evil version of Batman, with similar skills. Though he has appeared in video games and animation, he is yet to get a live-action cinema debut.