The gaming industry is a huge user of brand-new technology. This is partly because it relies on novelty value to keep customers interested. New technology is novel by its very nature, so the gaming industry pounces on it, often improving it along the way. As well as brand new technology, there are some stalwarts of the gaming industry that might not seem cutting edge but are essential for so many games to function. We're going to take a look at all types of tech and how they help the games that you love to work.
Random Number Generators
While servers keep multiplayer elements going, random number generators are workhorses in other ways. Those who enjoy casino gaming wouldn't be able to enjoy any of their favorite games without an under-appreciated but truly revolutionary bit of technology. Random Number Generators (RNGs) are responsible for everything from shuffling and dealing the cards at the best poker tournaments, to ensuring the roulette wheel receives a random spin each time.
Random Number Generators work by taking a seed number, that's sometimes generated by the player with arbitrary mouse movements and similar, or sometimes generated totally independently. With this seed number, the program runs it through a complex equation, like the sort you'd find in a degree-level math paper. After this, the resulting number is used with the game program to determine where a reel will stop spinning, or where a card will end up in a pack. This helps to ensure that casino games always run fairly for both provider and player. They're independently tested by legal bodies to ensure this, so if an RNG is not up to scratch, then the casino risks losing its license. They might not be the glitziest piece of technology, but they keep a whole industry in line.
Servers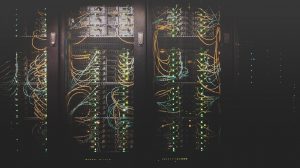 One of the most important technologies in the world of modern gaming is the server. Servers are used in all kinds of computing, but we're going to discuss those that enable seamless multiplayer gaming. For games that you play online with others from all over the world, there need to be multiple servers, each located relatively close to the people who are playing. Your console or computer will connect to the server that's nearest to them and information will be transferred between your console and that server multiple times each second. The server is a simplified computer, using all of its processing power to keep other people up to date.
The server then acts as a middleman between your console and the consoles of all of the other players, with everyone sending information to each other. This allows your game to continuously update, ensuring that everybody sees the same things happening on their screens. As well as ensuring that everybody sees the same things, the server may also be responsible for making certain decisions. For example, in a shooting game, the server might calculate whether you successfully hit your target or not. Of course, the other ways that servers work gets far more complex, but suffice it to say that servers are the single most important thing in online multiplayer gaming.