Almost everybody knows who Julian, Ricky, and Bubbles are, one of the most popular booze and dope loving trio's on television to this date, also known as the "Trailer Park Boys", which also happens to be the name of their beautifully set out mockumentary TV series about the vast and colourful lifestyle that one has in the far-from-glamorous Nova Scotia Trailer parks. But most of us have found out about this series approximately 20 seasons after its initial release. Why is that? Here you'll find out more about the story of a low budget local TV spinoff show that became one of the world's best ever comedy platforms.
How it all started 
Trailer Park Boys first aired on a rather insignificant local Canadian cable channel in 2001. It barely had any budget to start with, and almost all the actors knew each other personally. Mike Clattenburg, the creator of the show, was running a pizzeria with old high school friends Robb Wells and John Paul Tramblay, who also happen to be Ricky and Julian in the show. 
They eventually left the pizza business to work on the show. Another friend of Clattenburg's was one named Mike Smith, who back in the day was the guitarist for an Alt-rock band called Sandbox. Mike was originally hired to record the audio on an early version of the show, but Smith was so funny on the set that he was placed into the cast, and ran by the name of Bubbles. The only two professionals on set were John Dunsworth and Jonathan Torrens, who go by the stage names of Jim Lahey and J-Roc.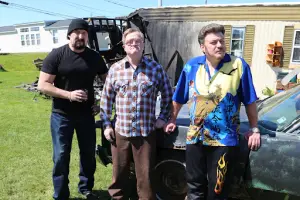 This meant that it took a lot of time for the show to improve in quality and gain its current glory. It was a rough start for the series, since it was completely funded by Clattenburg alone, and pitching a foul mouthed mockumentary about low life criminals to a TV channel and having them agree to air it wasn't really an easy task, in fact, it was said that Clattenburg was just about to give up on finding someone to air his show, until he found out about a new channel which had just been released that was desperately looking for shows to build a repertoire, and they had agreed to air it.
Season after season, the show started to gain a little popularity in the underground cult series scene, but it wasn't until Netflix had adopted the show years later, that the show had become world-famous.
The Plot
If you watch the whole series from start to finish you'll find out there's a continuous story from start to finish, and you can clearly see the growth and development of each character as an individual, however it's also written in an episodious tone, meaning that you don't have to watch the series in chronological order, as each episode has its own complete story.
Every season starts with Julian and Ricky in jail, talking about how they are going to live a better life when they come out, then you have bubbles, encouraging them to veer off their old illegal lifestyles, but somehow they always end up trying to find crazy ways to make money and get by, and they always do it in illegitimate ways, which end up by the end of each season sending them back to jail. 
There are some certain traditions that have been taking place in every season ever since it started airing. These traditions give the show it's uniqueness and make it feel like a real classic. Some of these features are; Julian's iconic look never changes – you'll always see him in his jeans and black T-shirt, and let's not forget his iconic glass of rum and coke, which he grasps in his hand throughout every second of the series, as if it were his favourite piece of jewelry. Another fun tradition is Ricky's funky yet limited shirts. We all know Ricky has a very specific look, usually containing a flowered buttoned shirt from the 70's, but the thing is, he only changes his shirt at the start of a new season, so you'll often see him running around in a ripped up shirt, or even duct taped occasionally. Then you have Bubbles and his gigantic glasses and his lovable bubbly character. 
Across the 20 year old journey you can see a lot of crazy mishaps and ideas that would either sound like a really good idea or a crazy, illegal scheme that's bound to go wrong in numerous ways. There was a point where they even built a casino inside Julian's trailer, in an episode called All the f***in dope you can smoke, and they even end up getting some unplanned celebrity attention. You can also turn your trailer (or home) into a casino, with the use of an online casino.
Are we done seeing the boys? Or is there more to come?
Nowadays, the original TV show is no longer being produced, however there is a special two-season cartoon spinoff one could watch on Netflix, along with a lot of live action they recently recorded on tours all across the world, and even a limited edition Trailer park boys in-jail series, exclusive on their own website, Swearnet.com. Sources say there is also more to come in the future, and this is definitely not the last we will be seeing of this epic, mischievous yet globally warmly loved trio.