There are some truly extraordinary book shops in the world, and today we are going to discuss six of them. From some of the most famous bookstores around the world to those with almost as many pets as books, here are just some of the unbelievable bookstores that all bookworms should add to their bucket lists! 
1. Acqua Alta, Venice
In Acqua Alta, Venice, books are displayed using gondolas, canoes, and rowing boats, rather than on traditional bookshelves. To ascend to the second level of this bookstore, you can climb the stairs built from stacks of books with carpet over the top. When you get to the top, you'll find even more books waiting, as well as a stunning view over Venice's canal system. 
The books in Acqua Alta are piled from floor to ceiling, so you won't be surprised that you can find all kinds of titles here. Books are a mix of new and second-hand, so every visit is sure to bring something different. 
2. Dujiangyan Zhongshuge, Sichuan
This bookstore might seem like something from your dreams, but you can visit it in southwest China. There are around 80,000 books on sale at Dujiangyan Zhongshuge, so be sure to set aside plenty of time if you want to pay this shop a visit! 
The store's unique design is inspired by the local irrigation system, which dates back centuries and is a UNESCO World Heritage site. You won't find many straight lines in the stunning design of this shop – the shelves curve around the huge area while other books are positioned in columns extending up to the mirrored ceiling. 
Curved staircases allow you to navigate the different levels of the bookstore and explore the thousands of titles on offer. 
3. Wild Rumpus, Minneapolis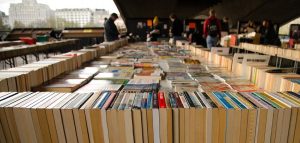 If you're both a bookworm and an animal lover, you are sure to love visiting Wild Rumpus, Minneapolis, Minnesota. 
The shop is home to two pet rats, who live under the floor, but in a glass cage so visitors can see them. Cat lovers will be pleased to know there are also three cats who roam among the books. However, Wild Rumpus is also home to some more unusual pets, including a lizard, a tarantula, ferrets, chinchillas, and various birds, including cockatiels and even chickens. 
It's not all about the pets, though; the shop is also the perfect place to buy kids' books. You'll find titles for all ages as well as graphic novels, fiction and non-fiction for young adults, and titles for adults, too. The whole family can find something to read here! 
4. Queen Books, Toronto
Although Queen Books might not be the most famous bookstore in the world, it deserves a mention for its fantastic range of services. In particular, the book subscription service in which you will receive a book every month, hand-picked based on your interests. This service is available for all, and the book will be delivered to your door every month for either six or 12 months. 
Queen Books also offers a gift-wrapping service, making it the perfect place to shop for your loved ones. Inside the shop, you'll find an impressive selection of the latest titles, nicely displayed around the shop. Perhaps what makes the store stand out is the beautiful sign that shows people of all ages and colors reading. 
5. Shakespeare and Company, Paris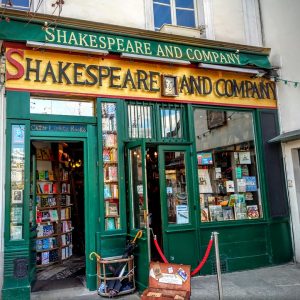 Perhaps one of the better-known bookstores on our list is Shakespeare and Company, located on the banks of the River Seine, near Notre Dame, Paris. Not only does the traditional English bookshop have some incredible titles, but it also plays host to some outstanding events. 
The shop is packed from floor to ceiling with books, and where there is some free space, you'll find notes pinned to the walls. There's also a piano and a kids' area in Shakespeare and Company, as well as a cafe to relax with a coffee once you've found the book you've been looking for. 
6. Strand, New York City
Here's another famous bookstore, and one that is certainly a must-visit if you're in NYC. Like Shakespeare and Company, Strand hosts some unique events – everything ranging from book signings to live podcast recordings. 
Strand has perhaps the biggest and best inventory of any bookstore – it claims to have 18 miles of books! You'll find old and new titles here, as well as rare books and everything else.
Another popular service Strand offers is 'books by the foot.' If you order this service, Strand staff members will curate you a unique collection to display in your home or business – think the stacks of perfectly color-coordinating books you might find in a cafe. You can even pick a specific shade, and the team will curate you a collection of books that fit your color scheme.