An amazing show like "Sex Education" that grabs the attention of the audience just with the title can never be less awaited than any other great show. Launched on Netflix, the first season itself had a huge opening of several people watching across the globe. With the second season, people got interested even more for more fun. Hereby, everyone in the town is wondering about season 3 which is yet to come and 4 right now.
Will there be a Sex Education Season 4? Is there any confirmation? If yes, then when? And will it be connected or not? Answers to all these questions are quite contradictory. However, you can find the answers below.
Is Sex Education Renewed for Season 4?
Yes! Sex Education has been officially renewed for a fourth season run.
Breaking News out of #TUDUM!

Sex Education has been renewed for Season 4! pic.twitter.com/8N2WwNLqoG

— Netflix (@netflix) September 25, 2021
Sex Education Season 4 Release Date
As of now, there is no official date revealed. But interesting is the fact that with such huge success, the team might not want to drop the show anytime soon would continue for four or more seasons. Hence, there are more chances of going further.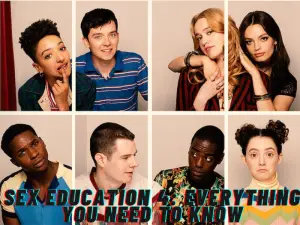 As per speculations, Sex Education season 4 is slated to arrive in September 2022 but this is yet to confirm although we'd be happy if this proves to be true.
What is the show about?
Talking about the show, it revolves around a guy who is trying to explore the lovemaking category but seems he is too awkward about it. The fun starts when he starts dwelling on the subject and slowly becomes an expert in it due to his mom being a sex therapist. As she is a sex therapist, there is a lot of information around this guy like videos and manuals and he loves it.
Creator Laurie Nunn and producer Jon Jennings came together to create this absolutely fun and entertaining piece of work that has kept people hooked throughout. The star cast has been mainly Asa Butterfield, Emma Mackey, Ncuti Gatwa, Gillian Anderson, Connor Swindells, Aimee Lou Wood, Kedar Williams, Tanya Reynolds, Patricia Allison, Mimi Keene, Alistair Petrie and some more. All of them have given amazing performances and we are sure they will keep on doing that.
The Cast of Sex Education Season 4
Here are the names of the following that we except to return in the upcoming fourth season:
Asa Butterfield will return as Otis Milburn

and Gillian Anderson will play Dr Jean Milburn

Ncuti Gatwa in the role of Eric Effiong

Emma Mackey will play Maeve Wiley

Connor Swindells will portray Adam Groff

Kedar Williams-Stirling in the role of Jackson Marchetti

Alistair Petrie will play the role of Michael Groff

Mimi Keene will play Ruby Matthews

Aimee Lou Wood will play Aimee Gibbs

Chaneil Kunar in the role of Anwar

Tanya Reynolds in the role of Lily Iglehart

Patricia Allison will play Ola Nyman

Mikael Persbrandt in the role of Jakob Nyman

Anne-Marie Duff will play Erin Wiley
Sex Education Season 4 Plot: What to expect from the story?
About the fourth season, the plot or the star cast isn't about yet but a heavy chance of the main characters being there is something that is going to be true. Even the synopsis isn't formed yet and we don't see any sign of it right now. There is no teaser or trailer out yet but we are keeping our fingers crossed to witness them very soon. About the third season, there might be some new characters in it but nothing is sure about the fourth. Hopefully, we also hope it brings the same excitement and fun back or else even more excitement and fun back to the audience, especially fans.
Takeaway
:
The tv series is often one of the major topics of discussion around the globe, especially among teens. Being hooked to a show that is extremely fun and amazing is obvious and so does the wonder and wait for it. Therefore, waiting and assuming for the fourth season is justifiable. But unfortunately, there isn't much information out yet as the third is just going to be launched soon. All we can hope for is the best.