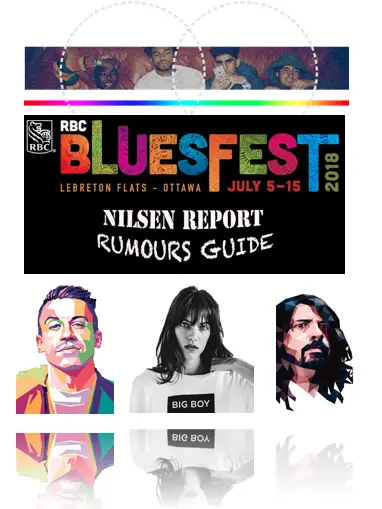 With the anticipation building for the reveal of the 2018 Ottawa Bluesfest line-up, the question remains… will this be the best summer music festival in Canada?
Yes, in all of Canada.
While the WayHome & Pemberton Music Festival have faded away into the sunset, the Ottawa Bluesfest has a real chance to become a mecca for music in Canada this coming July. What about Osheaga? We'll talk about that later…
Meanwhile, using advanced analytics, the help of the interwebz and the chitter chatter around the streets of Ottawa (Elgin Street Diner), here are some possibilities for this year's Ottawa Bluesfest line-up.
Macklemore & Kesha
 
The "The Adventures of Kesha and Macklemore" tour schedule has a gap that would allow a stop to close out the Ottawa Bluesfest on July 15th. With a show in Chicago on July 14th and a show in Toronto on July 16th, the thrift shop king could end up being one of this year's headliners.
Foo Fighters
 
Waiting for the Ottawa Bluesfest line-up to come out like…
The Foo Fighters play at the Rogers Centre in Toronto on July 12th and have significant days off before this gig that could be reserved for an Ottawa pit stop.
Jessie Reyez

Fresh off of a breakout year in 2017 and up for awards in multiple Juno categories, Reyez seems poised for a summer tour to keep the momentum going in 2018. She recently collaborated with Calvin Harris for a collaboration on his 2017 album Funk Wave Bounces Vol. 1 called "Hard to Love."
Charlotte Cardin

Another artist who has been making waves lately with a couple of Juno nominations, Cardin will hopefully head on an east coast music festival tour this summer.
She's poised for a HUGE 2018 after just recently releasing her second EP, Main Girl.
BROCKHAMPTON

The best boyband since One Direction? The first internet boy band, period?
After meeting on KTT—a Kanye West fan forum—the band has grown to include 14 members and continue to break all the rules.
Three albums in a year? Two sold-out tours in a year? Unheard of in today's music industry, where artists release new content periodically and then go into hiding.
They seem eager to take over this year's music festival scene, and it would be to no surprise if the Ottawa Bluesfest landed them.
Stay tuned for more rumours as we get closer to the official line-up announcement next week!