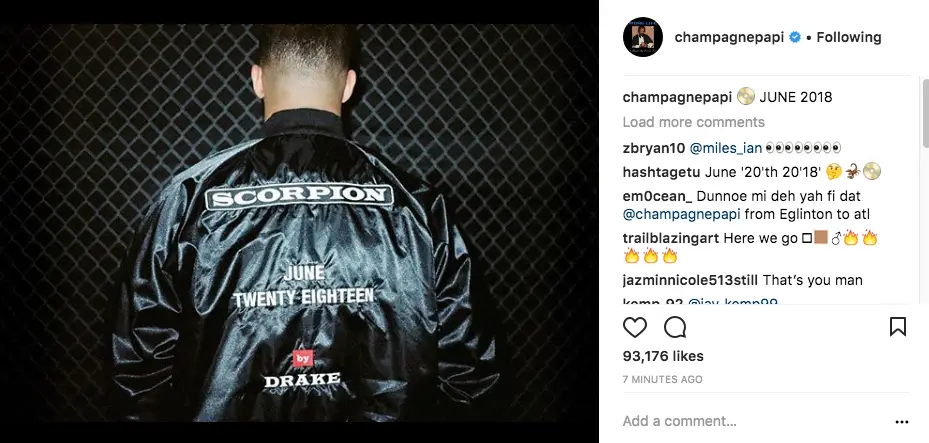 Drake took to Instagram this afternoon to finally announce his long teased at fifth studio album, now titled, SCORPION. With a release date slated for June and an upcoming OVO Fest slated for the Air Canada Centre in August, I wouldn't be surprised if the 6GOD has a world tour lined up for this fall. More details soon!
SCORPION.
JUNE. TWENTY-EIGHTEEN.
Confirmed tracklist:
1. Nice For What 
Timeline Update – 2018–present: Scary Hours and fifth studio album
After rumours circulated of Drake possibly collaborating with various artists, including rapper Trippie Redd and producer Pi'erre Bourne, for his new studio album, multiple snippets of songs were leaked near the closing end of 2017. Two songs would later be released as members of a mini EP, titled Scary Hours, on January 20, 2018, marking Drake's first solo release since More Life, as well as his first appearance on any song after featuring on a remix of the Jay-Z song "Family Feud" with Lil Wayne, as the lead single of the latter's Dedication 6: Reloaded mixtape. Scary Hours also featured the top-ten singles "Diplomatic Immunity" and "God's Plan", with the latter breaking various streaming records as it debuted at number one on the US Billboard Hot 100. The song was Drake's second as a solo artist to reach number one.
Drake earned his 70th top 40 hit after the Migos song "Walk It Talk It" featuring Drake debuted at number eighteen. He also featured on Memphis rapper BlocBoy JB's debut single, "Look Alive", which was released on February 9, 2018. The song's entry at number six on the Hot 100 made Drake the rapper with the most top 10 hits on the Hot 100, with 23. He later featured on a remix to "Lemon", a song originally released as a collaboration between band N.E.R.D and Rihanna. On April 5, 2018, Drake announced he was finishing his fifth studio album and he was releasing a single later that night. On April 6, "Nice for What" was released, alongside a music video that featured notable female celebrities Tracee Ellis Ross and Rashida Jones, among others.