OFFICIAL TRACK LIST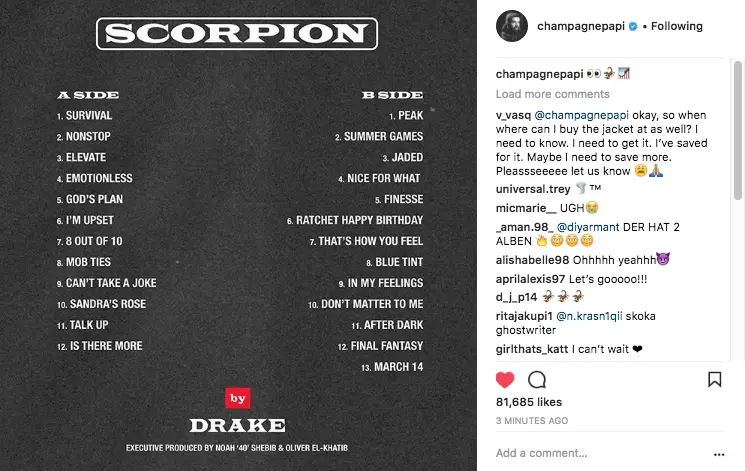 OFFICIAL MERCH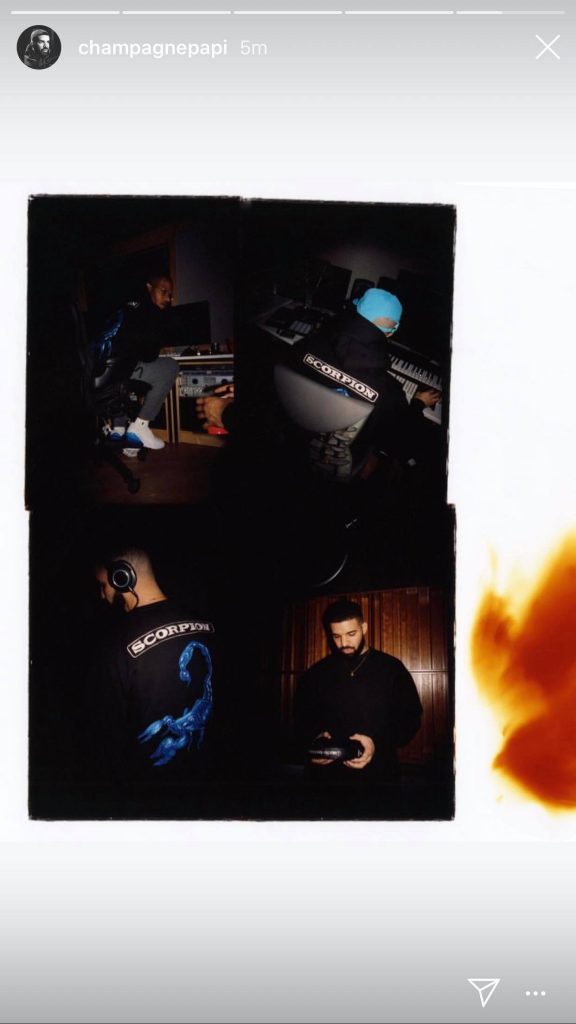 In case you hadn't heard, Drake is releasing a new album on Friday 29 June.
The first hint was dropped back in 2017 via the final line of his most recent project More Life, where he promised: "I'll be back 2018 to give you the summary."
He then resurfaced in April with an Instagram photo which revealed the upcoming release of Scorpion and has since released three singles: "God's Plan", "Nice For What" and "I'm Upset", all with accompanying videos.
Of course there was also the much talked-about beef between Drake and Pusha T which has helped drive interest – as if Drake needed it – in this new record, with many wondering if he's planning on addressing any of it on the album. Kanye West claimed the beef was "dead" in a tweet, but fans still think Drake may be tempted to respond.
There's actually a suggestion that Scorpion is a double album: several billboards that have popped up in Drake's hometown of Toronto refer to 'Side A/Side B' which caused the initial speculation. That's apparently been "confirmed" by Mal of the Joe Budden podcast, who boasts a wealth of connections in Drake's OVO camp which has gifted him with the occasional nickname of "OVO Mal".
"It's a double album," he announced on the podcast. "RnB album and a rap album."
Who was involved in making the album?
Drake's longtime producers/collaborators Noah "40" Shebib and Olivier El-Khatib returned to helm this release. His last album More Life featured major guest features including Kanye West, Quavo, Travis Scott, 2 Chainz and Young Thug, plus British artists Sampha, Giggs and Jorja Smith, but it's yet to be seen if Drake has chosen to go heavy on the guest appearances again with Scorpion.
DJ Khaled was shown on Instagram wearing a bomber jacket with the Scorpion album title on it, which suggests he's involved in some way too. But then another of Drake's famous friends – Stranger Things star Millie Bobby Brown – was also featured on Drake's Instagram wearing a jacket… does that mean she's making an appearance?!
Will there be a Pusha T diss track/s?
Maybe… Despite what Kanye claimed, Pusha's last diss track was A LOT, and even took aim at Drake's longtime collaborator and friend Noah "40" Shebib and his MS diagnosis, which even Pusha's friends suggested was a bit harsh.
Pusha also made references to rumours of Drake fathering an illegitimate child on "The Story of Adidon", and featured artwork which showed Drake in blackface, which forced him to address the controversy in a public statement.
Will Drake go on tour?
Which rock have you been hiding under? Drake has already announced a major North American tour with Migos which kicks off in July, and is called – rather wonderfully – "The Aubrey and the Three Amigos" tour.