After almost two years of seeing crypto coins increase in value, making them established and relatively trustworthy investment assets of the online economy, Bitcoin, Ethereum, and other popular coins are showing a continuous decline in terms of performance. The "King of Cryptocurrencies" has lost almost 30% of its value during the last two months, and the expectations of seeing BTC reach 100,000 US dollars is just another unaccomplished dream for many investors. Bitcoin's performance has acted as a tidal wave of negativity for most other cryptos, as many popular digital assets are showing downward momentums. This was not something unexpected, of course, as cryptocurrencies are very unstable assets, but after several weeks of new lows, investors are starting to worry that the crypto economy is heading towards a new bubble bursting.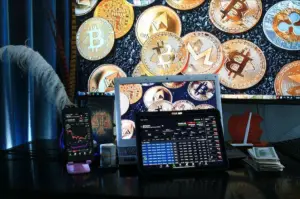 Crypto Trading is almost like Playing Games of Chance
 Things are not only negative in the world of cryptocurrencies. There are many that have made a fortune by opening a crypto position at the right time, regardless of the assets they invested in. In a way, crypto trading is a little bit like a game of chance, such as the ones players can play and potentially win real money at major online casinos. The odds may not always be in your favor, but there is always a chance that you will finish your trading or wagering session with extra money in your pocket. Professional and occasional crypto investors have made a lot of money by trading both popular cryptocurrencies and cryptocurrencies that showed a sudden upward spike in their performance and which then turned lethargic. Such an example is Dogecoin: a cryptocurrency that got its fifteen minutes of fame after getting the short-term support of Elon Musk. Doge went from being a joke to being an actual cryptocurrency in no time. Unfortunately, its upward momentum did not last very long, as people lost interest after a short time.
The Founding Cryptos Always Show the Way
If one wants to guess how the cryptocurrency market is going to go, then the only thing they need to check is how cryptos such as Bitcoin are performing. If established cryptos such as BTC and ETH are struggling, then there is a high probability that the downward momentum is going to affect promising cryptos like Cardano. If Bitcoin goes well, then the rest of the crypto market follows that pattern. This is just an outcome of the mental games that positive crypto performances play with the minds of investors. When Bitcoin performs well, the news of its performance mainstream at an extremely fast pace, and investors get a feeling that it might be a good opportunity to put some money on cryptos. This does not always pay off, of course, but this is how things have always been for the masses. Once, such reactions would be a derivative of the positive performances of gold or petrol, but in the 21st century, the trading world is a much bigger place, with a lot more options.
Cryptos Create Opportunities for Something New
 Apart from being financial assets, which are not regulated by a Central Bank, cryptocurrencies provide an alternative in economies where the local currencies are unstable. On some occasions, cryptos also create new types of opportunities. Close to the snowy peaks of the Svaneti region in Georgia, people are taking advantage of the favorable electricity agreements in order to mine cryptocurrencies. This development is not very favorable for the electricity providers, of course, but it gives people the opportunity to join the crypto-mining process at very low maintenance costs.