It's fair to say there has been a lot going on in the news over the last two years, but most sports fans living in Canada couldn't have missed the latest announcements regarding online gambling. Often a controversial and much-debated subject in Canada and across the United States legalised sportsbook gambling continues to split opinion. 
For critics, it's a dangerous pastime that could end up costing the country millions of dollars and even more heartache. For supporters, online gambling brings employment, additional tax income and great joy for the millions of bettors worldwide. Where do you stand on the matter? Are you pro-betting or against all forms of gambling? How you fit into the field will determine your views on the rapid spread of sports gambling across the nation.
Sportsbook betting apps and online casinos are popping up regularly as the biggest names from the sector aim to gatecrash the party in Canada. They know the laws are being relaxed, allowing adults to gamble more frequently and quickly through their smartphones, wagering on an ever-increasing number of markets. Perhaps you have been watching developments from afar and would like to get involved.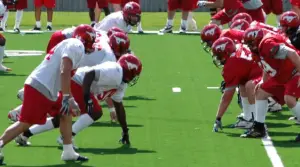 Be prepared
If you plan on gambling on your favourite professional sports competitions, including the NHL, English Premier League and the NFL, you will likely have a few questions you want to be answered before you start out. Online gambling is thoroughly enjoyable, but it's not without its risks, so you should have all the information you need before parting with your hard-earned cash.
On this page, we aim to cover all important aspects of the online gambling industry, including the legality in your region, available promotions, getting the best odds, registering for an account and more. We have kept this page as simple and easy to follow as possible by organising it into a frequently asked questions style article. This should help you find the question that best suits yours and grab a swift answer.
Is gambling legal in Canada?
Betting on professional, organised sport is legal across Canada, but age restrictions apply. The government has moved to relax betting laws further, recently increasing the number of markets available on the top fixtures and allowing players to make multiple bets on different matches, such as an EPL parlay.
Can I gamble abroad?
Many countries worldwide permit gambling, both online and in person. Online betting is growing, but it's not yet universal, with many states in the US still to make betting legal. Check the laws of the land before travelling to a foreign country. Remember, just because you can bet in your home country, it doesn't mean you are free to do so on vacation.
How do I join a bookie?
To place bets at an online bookmaker, you must first register an account with a bookie that is legal and licensed to trade in your region. You sign-up only once. Then, on future visits, simply access your account by providing your username and password. Follow these steps to register at any of the leading online sports betting apps available today
Visit the homepage of your chosen bookie and click the Join Us button

Fill in the registration form, providing your name, date of birth and address

Create a username and password that is memorable but secure

Make your first deposit and place a bet

Your account will be active
Will I get a free bet?
The leading online bookies offer all new customers a welcome bonus. These come in many different shapes and sizes, but the most popular is the deposit matched free bet. This promo gives all new players a welcome bonus free bet that is equal in value to your first deposit and wager. When your qualifying bet has been secured, the free bet tokens will be added to your account balance and will be ready to use.
How do I place bets?
Access your online betting account and click the sport you wish to bet on and then the competition. Click the fixture, then the selection you are after, to add it to your bet slip. Input your stake and confirm the bet. It's that easy. Your wager will be live and a cash-out amount added to your bet slip.