Meal kits have revolutionised home cooking across the world helping working families and busy individuals eat healthier, easier than ever before. In this article we will take a deep dive and try to identify the best meal kit delivery in Canada with a special emphasis on helping you identify the best in Quebec.
What Even is a Mealkit?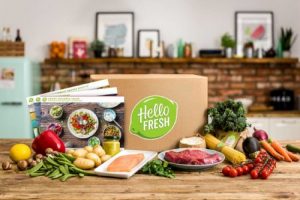 In case you have never encountered the meal kit concept before, it's really very simple. Meal Kits or Food Subscriptions are packed boxes of fresh ingredients that you get delivered to your door along with instructions as to how to turn them into a delicious meal.  Subscription boxes of all kinds are currently a giant global trend from beer, to wine to cleaning supplies but meal kits are by far the biggest sub-success story so far.
The concept is primarily designed for working people who want to eat fresh, healthy, home-made food but struggle to find the time to plan and shop. One way of looking at Meal Kits is that they are kind of like Take Outs except that you have to do some work yourself and crucially, they tend to focus on healthy food rather than delivering deep-fried-cardiac-arrests.
Meal Kits can cater for a variety of different dietary requirements such as vegetarians, body builders or plain old fussy eaters. There are also meal kit services catering for singletons, couples or entire families. Finally, meal kit food subscriptions can also be tailored to provide 3 meals per day, or 3 meals per week depending on individual needs.
Most meal kits are designed for "quick cooks" and take between 15 – 30 minutes to prepare making them ideal for busy lifestyles.
How Are Meal Kits Delivered?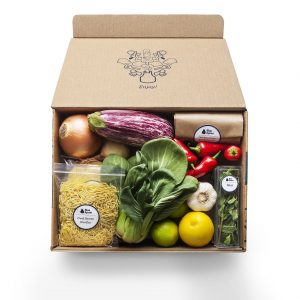 The maximum emphasis for meal kits is on freshness and they are typically delivered in fresh boxes designed to keep the food cool even if left outside on hot days. Meats are kept on ice blocks and other fresh goods are individually packed in fresh bags. For example, well known meal kit provider Hello Fresh claims that they tested their boxes by leaving them outside for upwards of hours in 32 Degree heat.
The accompanying recipe cards are usually colour coded and are very easy to follow even for novice cooks.
Of course, there is an environmental impact of all of these fresh box deliveries (just as with Take Outs) but providers are constantly innovating to try and make their ever more boxes recyclable, reusable and as eco friendly as possible.
The Best Meals Kits in Canada

As promised, we're now going to get down to it and establish who is the best meal kit provider in Canada. Firstly, it is important to note that owing to the sheer vastness of the country along with the provincial, administrative breakdown of the nation, not all providers operate and deliver nationwide. Whilst some do, the vast majority do not (or at least not yet).
Hello Fresh are probably the most well known and established meal kit provider in the entire world and their brand is synonymous with the very concept (although they didn't actually invent the idea).  Hello Fresh have used their experience, industry clout and scale of economy to deliver well priced, good quality meals consistently and widely. They are definitely a safe solid bet but they are not the cheapest out there and whilst their meals are all good, there are tastier ones available (this is of course highly subjective).
As much as I hate to give even more kudos to multinationals, the customisation options of the boxes via the app is very impressive and allows you to change your diet in real time depending on what your current lifestyle and goals are. This along with the coverage makes Hello Fresh a good, solid option.
Availability: Hello Fresh currently covers 95 percent of delivery addresses in Canada, including Ontario, Quebec, Manitoba, Saskatchewan, Alberta, British Columbia, Newfoundland and the Maritimes.
Average price per person: Hello Fresh's prices work out as low as $10.31/serving. That makes them the most expensive pick.
Fresh Box's sister company Chefs Rate is officially rated as Canada's top meal kit provider despite its limited coverage. At the time of press, they are not currently feeding the people of Quebec although this may change in the very near future – this is why we included them. What gives Chef's Plate a very close edge over Fresh Box is that their packaging is made from 100% recycled material and their ingredients plus meal plans lend themselves very well to left over type meals.
Chefs Plate prep instructions also come in a handy booklet which includes chef notes and calorie info. They do a "ready in 15 minute" service and also provide gluten and dairy free options albeit inconsistently (ideal for part time vegans).
Availability: Chef's Plate is currently available in Ontario, British Columbia, Alberta, Saskatchewan, Manitoba, Prince Edward Island, New Brunswick and Nova Scotia, with plans to expand.
Average price per person: Depending on what service you opt for, Chefs Plate's meal kits come in as  low as $8.99/ per serving.
Canadiana based and owned Good Food are Hello Fresh's nearest rival in terms of market share and coverage area. Good Food has partnered with TV Chef Anne-Marie Withenshaw and specializes in 20 minute meals, as well as low carb meals making them a solid choice for dieters short on time. Their meals are perhaps a bit smaller than those from Hellofresh (again, great if you are on a diet) but the price is also lower.
They do offer a good range of diet options such as low carb, vegetarian and clean.
Availability: Good Food currently delivers in Ontario, Quebec, Manitoba, Saskatchewan, Alberta, British Columbia and the Maritimes. There are plans afoot to extend this in the near future.
Average price per person: Good Food's prices come as low as $5.85/per serving. They are the cheapest player in the space but honestly, sometimes I felt I could have eaten 2 servings!
Local Ottawa based startUp Cook-It bill themselves as a premium meal kit provider serving the more distinguished palette and the deeper pockets. Despite this claim however, we actually found them cheaper than Hello Fresh depending on which subscription option you go with.  They offer both meat eater and vegetarian options but thus far they have yet ventured into more niche diets.
Interestingly, their meal instruction cards also come in both English and French. Real foodies, with no special dietary requirements, will love Cook It.
Availability:  Montreal-based Cook it company is currently only available in Quebec and Ontario –  that will very likely change in the near future.
Average price per person: As low as $7.89. For the quality of the product, that's a bit of a bargain.