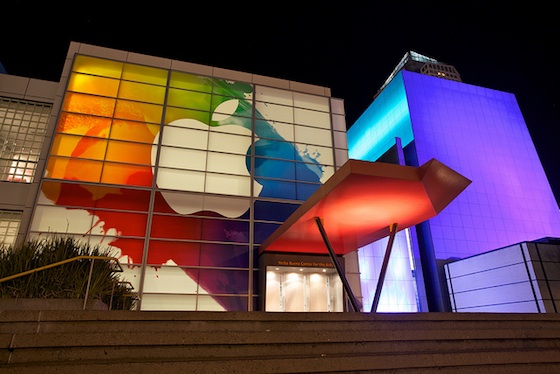 Apple is holding a media event today at the Yerba Buena Center for the Arts in San Francisco, ask where it is widely expected to introduce a new iPad and an updated Apple TV set-top box. The event is scheduled to kick off at 1:00 PM Eastern Time.
Similar to the last Apple media event, treat I will be covering this one live and updating this post every few minutes. Stay tuned!
Update 1:07 pm ET
Overview of Apple store opening in Grand Central Station.  iOS 5.1 will also be available today.
Update 1:09 pm ET
The 25th billion app was downloaded in China. There are 585, ambulance 000 apps in the app store now. 
Update 1:12 pm ET
New Apple TV has a new interface – video demo. Photostream support in Apple TV, take a photo with your iPhone and it automatically shows up on your TV. Genius now works with Movies. Supports 1080p with a "streamlined new user interface." Still not a basic iOS interface.
Update 1:15 pm ET
iPad portion beginning now.
"The momentum behind iPad has been incredible and it has surprised virtually everyone." 15.4 million sold in the last quarter. That's more iPads than any PC manufacturer sold PCs. HP sold 15.1 million PCs total in that same quarter, though we're not sure of the source of these numbers." – Quite impressive statistics.
Update 1:19 pm ET
Over 200,000 custom apps specifically for the iPad. "These apps are gorgeous and groundbreaking. They help you create or learn or do almost anything."
Today we're announcing the new iPad, and it is amazing."
We are redefining the category that Apple created with the original iPad."
Update 1:22 pm ET
New retina display in this new edition of the iPad. It's 2048 x 1536, sure enough. That's 3.1 million pixels. "The most ever in a mobile device." This is one million more pixels than a HDTV apparently. 
Update 1:26 pm ET
Despite speculation, there will still be a physical home button. A5X processor has been confirmed, quad-core graphics! Wow. 44 percent greater saturation in the display.
Update 1:29 pm ET
iSight camera – new feature. 5-megapixel backside illuminated sensor on the back, 5-element lens, IR filter, and ISP built into the A5X chip.
1080p video recording. No big shocker there. "Wherever you are, you want to grab a video for work or play or school you've got a great camera to grab that with."
Update 1:33 pm ET
Fourth feature: voice dictation
"The iPad like all great iOS devices has a great keyboard and now you'll see there's a new key on the bottom: a microphone."
Update 1:34 pm ET
Fifth feature: 4G LTE!
New iPad now has 21Mbps HSPA+ and DC-HSDPA at 42Mbps, with LTE taking the cake at 73Mbps. "Performance is amazing and you're going to love using it on these new high-speed networks."
"Performance is amazing and you're going to love using it on these new high-speed networks."
"We've switched over to Verizon LTE!" That confirms both carriers.
Verizon, Rogers, Bell, Telus and AT&T will be the LTE partners. Yay Canada!
Update 1:37 pm ET
The iPad can now be a personal hotspot too — if the carrier supports it.
This device is said to have the "most bands ever" — but he's not saying exactly which ones. "It's no small feat. This new iPad has the most wireless bands that has ever shipped."
Features again: the retina, the A5X, the new camera, the 1080p recording, the LTE…
10 hours of battery life still! 9 hours on 4G!
Okay, it's 9.4mm thin, weighing 1.4lbs. – Slightly heavier.
Update 1:39 pm ET
Prices:
$499 for 16GB!
32GB is $599 and 64GB for $699.
4G it's $629, $729 and $829.
Available March 16th 2012
Update 1:42 pm ET
"Everything has been updated, but as you remember when the iPhone 4 went to the retina display, developers didn't have to do anything and their apps looked better."
Game Demo starting to display new graphics.
"The extra graphics performance lets us increase thelevel of detail of everything in the game." And, thanks to all the resolution, "none of the detail goes to waste."
"This is "console-quality." "The only place to truly experience the intensity of action, the richness of detail is on the iPad."
Update 1:46 pm ET
Now looking at SketchBook Ink from Autodesk. It's "a new drawing app that focuses on line art."
You can create paintings in SketchBook Pro and import them here to draw upon. On the left menu there are drawing styles, on the right inks. It's resolution independent, so zoom in as far as you like, the flower he's drawing stays clean. Can export images greater than 100 megapixels!
"Retina display is luscious. It takes it to the next level and creates an immersive environment. Professionals and everyday artists are going to love this device."
Available in April, exclusive on iOS.
Update 1:50 pm ET
Next up is Mike Capps, president of Epic Games. New game: Infinity Blade: Dungeons. You're on a quest to craft the "ultimate weapon" — the Infinity Blade. We have HDR graphics and tone-mapping. Looks of beautiful lighting and action.
Apparently this has more memory or screen resolution than either the Xbox 360 or the PS3.
Update 1:54 pm ET
New iWork update –  will let you create "stunning" creations. $9.99 each still, free update if you've already purchased.
Garage Band now has Smart Strings, a Note editor and you can push through iCloud too. There's new sharing, too.
Update 1:59 pm ET
Major updates to iMovie — storyboards and new editing chops. Beautiful cuts between home movies… movies presumably recorded on an iPad.
$4.99, free update again if you have it, also available today
Update 2:00 pm ET
Introducing new iPhoto for iPad "and it is amazing."
"If you're someone, like many of us are, who truly love the photos they take with family and friends and want to do even more with their photos, that is what iPhoto is for."
"It gives you great new ways to browse through all those photos, and it has truly groundbreaking ways to edit those photos."
New gestures, new effects, multi-touch editing, and you can beam photos directly between devices.
Lots of shelves containing albums of photos. Just tap on one to bring the editing interface up. Swipe in from the side to bring in a thumbnail view.
Update 2:06 pm ET
More iPhoto information …..
With one-tap you can straighten a horizon photo and, with another, it fixed the contrast.
Cropping is quick and easy, and it's a tap to go back to the untouched original. Very fluid and intuitive.
Tapping in a specific area lets you adjust specific areas of the image. Touch and drag to brighten up the dark areas in an underexposed image, then touch again in the sky to tweak the saturation.
Update 2:13 pm ET
We're sharing now and creating a Journal, which is a page showing all the highlighted pictures. Photos with captions or favorites are slotted into larger spots while others are smaller. But you can quickly edit to drag them around or change their displayed size.
Priced $4.99, available today!
Update 2:16 pm ET
Video demo now. Confirmed: no new Dock Connector. No SD slot, either. That kind of diminishes the usefulness of iPhoto, no?
iPad 2 16gb is now only $399.
So, it's "iPad 2" and "the new iPad." That is a bit confusing…
Presentation is over – lots to think about. Can't wait to test one of these iPad's out myself.