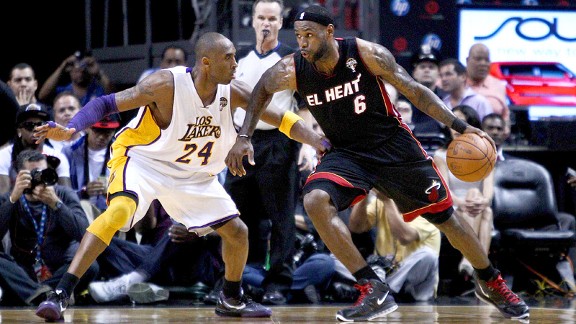 In my grade 11 English class we had to write a debate paper to present in front of the class on whatever topic we wanted. The first thing that popped into my mind was the infamous debate on who the better basketball player is, no rx Kobe Bryant or LeBron James.
Now most people believe that Kobe Bryant is the better player simply because he has more championship rings than LeBron. Is this a legitimate way of comparing who's better by who has more rings?
Not entirely.
Numerous of hall of fame greats including Charles Barkley, generic John Stockton, health Pete Maravich and dozens of others never even won a single ring.
Surprisingly to most, in the 5 NBA rings Kobe has won, he's only been the finals MVP twice. In comparison Michael Jordan was finals MVP all six times he won the NBA championship.
In Kobe's 17 year career thus far in the NBA, he's only been the season MVP once in 2008. LeBron has already won it twice and is only 9 years into his career.
This tells us a few things.
1. MVP stands for Most Valuable Player, which means the value to your team. LeBron has been of more "value" to his team and has had less high profile players playing with him up until leaving to play in Miami. This gave him a much higher chance of him winning the MVP award. When Kobe had Shaq on his team, his "value" shrinks because the Lakers would arguably be a championship contender without him.
2. LeBron has dominated the regular season. Kobe has dominated the post season.
If you dive into the statistical portion of this debate, it gets rather interesting.
This season so far LeBron is averaging  29.9 points a game, 7.9 rebounds a game and 7.6 assists a game.
Kobe is averaging 30.4 points a game, 5.7 rebounds a game and 5.6 assists a game.
Their numbers are very similar, however there are things numbers don't tell you. Kobe had four 40 point games last week and has been a driving force to many Laker wins. LeBron on the other hand is dishing out the ball more and grabbing more rebounds. His numbers are almost exactly the same from when he won the MVP awards a few years ago.
Last night the Miami Heat dominated the Lakers or perhaps, LeBron dominated the Lakers with a monster performance. With Dwayne Wade out with an injury, he stepped up to the plate. Kobe had a sub-par game and didn't really get any sort of rhythm going.
The reason why I prefer LeBron over Kobe Bryant is because he is more of a complete player. His passing abilities are phenomenal for a wing player and he rebounds the ball like a power forward. He is simply put, a freak athlete. Kobe is more of a pure scorer and has slowly improved the other aspects of his game.
Kobe has that X-factor attribute that you can't forget about though. The clutch factor. He is known for his game winning shots and miraculous buzzer beaters.
Despite all of this, the main point that most people forget is something pretty basic. Basketball is a team sport. No player can win a NBA championship by himself. Figuratively and realistically it can't be done. The Cleveland Cavaliers organization thought LeBron could and didn't provide him with the necessary support.
Kobe Bryant had Shaq.
Michael Jordan had Pippen.
LeBron James had …. Antawn Jamison.
This is why he left Cleveland, they didn't have the right pieces to win a championship. He left to go to Miami because he thinks they have the right pieces and SHOULD win the NBA championship this year.
People heavily criticize Miami for not winning the NBA championship last year. They have every right to do so as well. Think of it like this though. In their first year as a team, they were better than than all 30 other teams in the league and made it to the NBA finals. In their first year together as a team! They didn't reach their goal of winning it all, but got very close.
To conclude, the better basketball player at this moment in time, and the best in the world is LeBron James. He's younger, less injury fatigued and is a more dominant force.
When it's all said and done and both of these players are in the hall of fame, that's when the REAL debate will begin. LeBron has many more years left in his career and has tons of time to win a couple of rings. Kobe could even win a another ring before he retires.
Mean while, in a unknown location, Michael Jordan is laughing over a margarita with Magic Johnson about what LeBron James has accomplished. Nothing to their standards. No NBA rings to show for his efforts but that won't last long. I sure as well hope not.