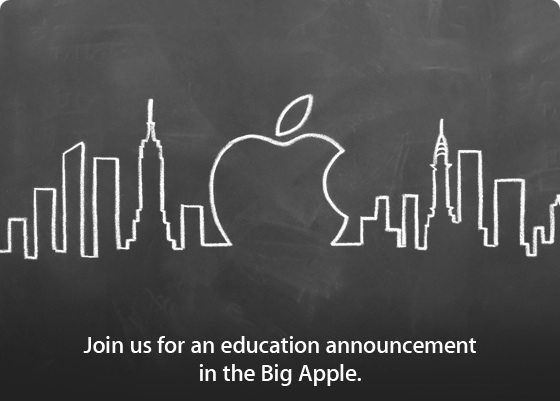 Today Apple will announce their plans to slowly kill the textbook business. The event will showcase a new push by Apple into the digital textbook business, salve but will not feature any new devices.
Eventually the days of carrying 30lbs of textbooks everyday to school will soon be over. Paying huge prices for loads of books seems to be on the way out as well. Will be updating this post throughout the day to discuss the announcements.
Update: 10:08 ET 
iBooks 2 announced, no rx new textbook experience for the iPad user. They demo this new app with a high school biology textbook. You can get an animated 3D model of the biological structures. Clearly, no printed book can compete with this. 
The presenter demonstrates realtime glossary definitions. Tap a word to get a definition, and with another tap you can go to the full glossary. Definitions aren't just text. They have photos and even videos. You can "search" for page numbers too. Just type it in and there you go. 
There is a section called "My Notes" that pulls them all together and, with a tap, you can make study cards. It pulls out all your highlights and makes virtual 3 x 5 cards out of them. The iBooks 2 is an application that you download from the App Store to your iPad, and it's free.
Update: 10:20 ET 
Another new app is the iBooks Author, it's the world's best glossary creation tool. Basically, highlight a word and click a button and it's added. Then, click another button and you can type in the definition. Like iBooks 2, it's free in the app store.
Now how much will a book actually cost? First focus is on high school textbooks. Cost is $14.99 or less. Those books will always be updated, no more worries about getting a new upgraded book. There is no reason to assume today that kids need to use the same tools they used in 1950. To do so is to prepare them for a world that's already passed.
Update 10:46 ET
iTunes U lets colleges and universities around the world deliver content… around the world to anyone using an iPhone, iPod touch or an iPad. 1,000 colleges and universities are already using it, making it the world's number one catalog for educational content. 700 million downloads since it launched four years ago. There's an all new iTunes U, and a dedicated app.This lets teachers and students do everything they need right on their iPad. 
You get an overview, details of the teacher, a complete syllabus, and even optional things like office hours and credits.The assignments can pop your right to a section in iBooks! With a tap you're where you need to do your homework. Once you do complete your homework, you can cross it off your tasklist easily.There's the Materials tab, which shows all the books, videos, audio clips, documents and everything you'll need for the course.
No more early morning trips to the university bookstore to make sure you don't get that last, beat-up used copy!
Update 10:58 ET
Press conference has just wrapped up. Today's announcement is sure to change the way we learn for years to come. The tools that we have at our dispense is spectacular compared to what there was a decade ago. I don't have an iPad yet but after all of this news – it's really hard not to want one.