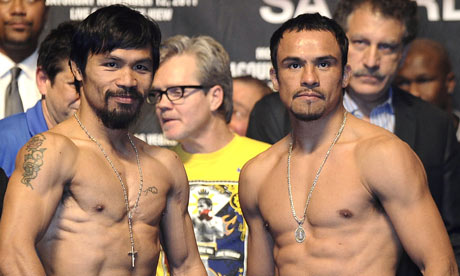 The MGM Grand in Las Vegas was bursting at the seams this weekend and it was not because some old lady won the mega jackpot at one of the slot machines. It's because Manny Pacquiao is in town to fight Juan Manuel Márquez and wherever the Filipino is, ailment the heard of fans are there as well. More than 5,000 boxing fans turned up for the televised weigh-in on Friday, while tickets for the welterweight fight were selling for more than $1,000 on the black market. So much for the great American recession.
If the buzz for the third meeting of Pacquiao and Márquez was loud it still could not drown out talk of the fight that everyone with an interest in boxing obsesses about, Pacquiao versus Floyd Mayweather.
Everybody wants it. Yet those best placed to make it happen betray little optimism.
While tonight's fight should be interesting, the outcome is fairly predictable. Márquez is in the later stage of his career and isn't getting younger, while Pacquiao supposedly is in the best shape of his life. With Pacquiao winning the first two fights against Márquez, this fight should end any controversy between who's the better fighter. In my eyes this fight is just a stepping stone to get to the Mayweather fight for Pacquiao, but you never know.
Manny Pacquiao is a man of many professions, part time politician, karoke singer and finally boxer. If you don't know what I'm talking about, just check out the video below.
Catch the fight tonight on HBO at 11 pm EST.